COLLEGE FINANCIAL AID FOR FAMILIES
Students are being sought after by many colleges. We want to help you manage this process and show you how to maximize your financial aid award. We will teach you how to attend a Private University for a Public School price!
Challenges Families Face When Preparing For College: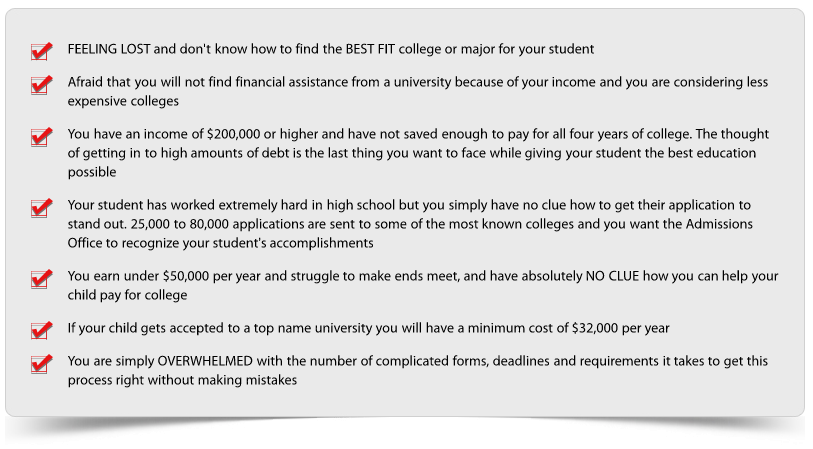 If any of these sound familiar to you we would like you to know ITS NOT YOUR FAULT and don't give up just because the entire college planning process is frustrating.
Premier College Guidance was created to be a resource that families can utilize to make the process EASIER and MISTAKE FREE. We realize that most families already understand that SATs, GPAs, and extracurricular activities are important requirements for getting into college. Further, most people realize that income and assets are a key factor in determining who qualifies for financial aid.
So what matters most? What we believe is important when helping families is teaching what you may never hear from a counselor or college representative. In other words, what goes on BEHIND CLOSED DOORS OF THE ADMISSIONS AND FINANCIAL AID OFFICES. How do they make their decisions on who gets accepted and what will be your total out-of-pocket cost for any college you apply to.
Before you take any action on your college plan, there are 3 Important Pillars in this process you must fully understand.
Pillar 1: Find The Right College That is The Best Academic Fit and Position The Student To Be Accepted
Finding the right colleges is crucial and this is typically where a family will make the first mistake. The selection process should not be made by factors such as, 'what colleges are other students applying to or which college is least expensive.'
All income level families should know the importance of matching the college to the student's ability to succeed. Most students will switch their intended major while in college, therefore creating a "fallback" plan would save time and money.
If financial aid is important we must examine whether this school is willing or able to help you make ends meet.
For many families, finding the right college really means finding schools that are appropriate for the student academically and socially. This will typically give the family the best financial fit when these strategies are applied correctly.
Strategic Enrollment Management (SEM)
In general, each college applicant has a unique characteristic, skill or interest that makes them different and will help them succeed.
When a family connects their college list to the specific qualities the college wants and your student has, students greatly increase their chances of getting in. One mistake a family typically makes is thinking attending a local community college will save them a lot of money. SEM makes college attainable no matter what the family income is or the student's grades.
Now is your opportunity to showcase what you have built over the years by creating a concise academic resume. Qualities you have plus talents and accomplishments that shape who you are in the classroom and out will now serve as your ambassador to the colleges. Prospective schools will understand why you make a good fit at their schools and offer special attention. When your student's College Application, Essays, Recommendation Letters, Interview and everything else all communicate one unique and consistent message, the university clearly understands the student's positioning. And if the college likes the student's positioning, this student will have no problem getting into the school.
Getting Noticed
This comes from years of research done by the colleges themselves. After analyzing the nuances of how a college markets itself to a family and why, we have discovered that there truly is a method to getting your student noticed at even the top colleges. It's called the Noel-Levitz report. From our experience of dealing with countless families in this process, it is our belief that no family should plan for college without understanding how the colleges utilize their resources and how to get a piece of it. Think of it this way, you are only a name until your application funnels its way through the right hands.
You will need to do a few things here in order to develop and maintain a relationship with the college. Here is an insightful tip that can greatly increase your chances of turning a colleges head:
Begin the process of making "conversions" or "impressions". You can do this by asking to receive a View Book from the college. Ask questions on various topics that can help forge a relationship with the right people. The best way for the admissions office to make the tough decision between you and the other student just like you is who has a stronger intent on coming to our school.
Do an overnight stay at the college. This can be your opportunity to meet the Department Head in your area of study. A tremendous amount of influence happens between these individuals and those in Admissions.
The more "conversions" or "impressions" make it easier to convince the university that they are the student's first choice. Bee seen and get noticed.
Sample Questions to Ask:
Do you have work-study programs for those students in my intended major?
Do you assist in helping me get a summer interning position or job in my area of study? In other words, do you have strategic alliances with companies that allow your students to gain job experience?
What % of NEED does your college meet?
What is the Retention rate at your school for students in my major?
Can you guarantee awards if I maintain a certain GPA while staying fulltime at your college?
Pillar 2: Reduce Your Cost and Tap Into All 3 Financial Aid Banks that are Available
Each university will have one to three banks of Financial Aid they can use to give a family FREE MONEY to go to their school: Need-Based Grants, Merit Scholarships, and Institutional Aid Programs. Some universities have the capacity to supplement a family's entire college costs using just one bank, but the objectives based on our system are to maximize all the money you can get from ALL three banks.
Need-Based Grants
Need-Based Grants are given out based a family's "Financial Need." For some state grants GPA may be a factor but for the most part these grants have little to do with grades. Having a "Financial Need" also doesn't mean you have to be a "needy family." Because college is such a large investment, even families that earn over $250,000 to $350,000 per year will often times have some form of Need-Based eligibility.
Your eligibility for Need-Based Grants is directly-related to how you fill out the financial aid forms. Many families will completely eliminate themselves from Need-Based Grants because they have made too many errors on the financial aid forms.
When it comes to Need-Based Grants, it's all one big mathematical formula. Small changes on the FAFSA or Institutional forms can make a major different in your eligibility for Need-Based Grants. If the formula comes out right, it's pretty straightforward. You'll automatically qualify for Need-Based Grants.
A huge mistake families also make is assuming that because they qualify for Need-Based Grants they'll automatically receive them. Eligibility is also based on how much need the college actually offers.
Merit-Based Awards
Studies show institutions that offer merit scholarships focus these available funds on those applicants that they desire most. Merit scholarships are academic scholarships awarded by the university. These differ from the private scholarships you normally hear about and in most cases your chances of being awarded a merit scholarship are much higher. Merits Scholarships are based on the student's grades and test scores, but are independent of the family's "Financial Need." Meaning a family can receive no money in Need-Based Grants, but still have their full college cost covered through Merit Scholarships.
So many families will look for other sources of funding simply because they don't believe their student's grades are good enough. Understand this; you do not need to be a 4.3 GPA student in order to qualify for this award. The goal you should have in mind is to be slightly above the average student who gets accepted to that particular university.
If you are successful and become a merit scholarship recipient, the very next question you need to ask the financial aid department is, "how can I guarantee this award for all 4 years?" Again, you are finding out what this school wants to offer you because you have worked hard and will most likely be considering other offers from various colleges. Focus on where the SAT or ACT should be and try to land yourself in the top 20% of incoming freshmen.
Most of the families we work with who receive merit awards are shocked that they qualify! The key to this is identifying the right college for your student. This is the foundation of the planning process. Once you have built a solid starting point, the process of reducing your cost becomes a lot easier.
Endowment Awards
Endowment Aid is free money that the school will award to a student and family regardless of the student's grades and test scores or even the family's "Financial Need." Colleges could offer it to a student because of their talents, skills, accomplishments or anything perceived as different and unique by the college.
Many of the colleges have enough money in their endowment fund that could pay for each student to attend their institution at no cost! The problem is, they don't do that and unless you are an insider you will most likely never find out how much is sitting in a college's endowment fund. Institutional Aid is a common bank that colleges will use to compete for students. So, it's not always clear why a student received Institutional Aid because the school doesn't always reveal why. Sometimes a college will award endowment money to you just to make sure their award is competitive with the awards that you will receive from other schools.
Hint: Most of our families who make too much money for Need based aid will qualify for endowment money. This normally equates to just as much, if not more money than a Need based grant from the college.
Pillar 3: Properly Funding for College without Sacrificing Your Entire Net Egg and Destroying your Retirement
The reality is you will still have an out-of-pocket cost even after being awarded large amounts of financial aid. This falls on the laps of the parents and student and is one area that could cost you more than it should if you don't know what you are doing.
Some families have done great saving for college and will use that money first before worrying what to do for the other years. Other families will delay the pain of paying back loans and just borrow each year their child is in college. Whatever the case may be, you are drastically hurting your current and future financial situation by letting the schools dictate how to pay them.
Do you have a plan on paying your out-of-pocket college costs? You don't always have to take out on loans, but if you do, you may want to stay away from those high interest loans that aren't even tax deductible. Understand that you do have options which need to be fully explained. An ignorant consumer will normally pay more for unnecessary fees and be charged extra just because they didn't know.
If the money that you have put away for college is not enough to cover your entire college out-of-pocket costs, you'll want to stretch that money so you get the best bang for your buck. This is especially true if your child plans to continue on to grad school or if you have more than one child.
And if you've put money away as your own personal nest egg or retirement savings, and you had no intention of using that for college, you may not have to. If done correctly, you may not even need to slow down your contributions to retirement during the college years. This is a BIG investment which needs planning no matter how little or how much income you have.
The next step you'll want to take is to figure out what is your best plan on paying for college and looking at how this plan affects Financial Aid in the next coming years, your overall financial health, your cash-flow, and your tax bill.
To discover the business-side behind why and how decisions are made by the college's admissions and financial aid departments we invite you to attend one of our workshop series. You will get a professional who has been through the process several hundred times with other families show you how to make college affordable REGARDLESS of Income, Assets or Students Grades. We speak throughout California and Nevada in an effort to educate college counselors, administrators and parents. Make a reservation for an upcoming event in your area and you too will be on your way to getting accepted to the college of your choice without going broke.